FACTORY-BUILT HOUSES MORE ENERGY-EFFICIENT THAN EVER FOR OUR CUSTOMERS!
What is Innovation climat?
Maison Usinex homes are now Innovation climat certified!
Our vision of providing more energy-efficient buildings is becoming a reality like never before.
+ SAVINGS
Save 20-30% on your electricity bill
* according to tests carried out in Saguenay for a house facing south
Take advantage of a reduction on your electricity bill thanks to the exceptional sealing of our constructions.
See the resale value of your home grow due to its solidity and increased insulation. An ecological house has an added value of 5% to 15% on the market.*
Apply for energy-efficient home subsidies to reduce your mortgage.
+ coMfort
Energy savings of 33% on average on our models
Protect your home with our technology that guarantees less humidity in the walls, therefore reducing the risk of mold.
Relax in a cozy environment that keeps you warm in the winter and cool in the summer.
Sleep soundly thanks to the increased soundproofing of our triple glass windows and our choices of insulating materials.
Enjoy unparalleled peace of mind knowing that your house meets the highest standards on the market.
+ Eco-friendly
Eco-responsible constructions
Reduce your consumption with Innovation climat's energy efficiency.
Limit construction waste with our environmentally optimized processes and our policy of recycling unused materials.
Reduce your ecological footprint on a daily basis to reduce your impact on the environment.
+ quality
Only the best for our customers
Take advantage of our construction techniques beyond the standards advocated by recognized associations.
Enjoy having the Garantie de construction résidentielle (GCR) plan with our AA rating on all our constructions.
Benefit from a top-quality home built indoors in a controlled weatherproofed environment.
Appreciate having the best of the industry with our cutting-edge technology equipment and our specialized workforce.
Be assured of the quality of your home thanks to the quality control we perform every step of the way.
An Innovation Climat home consumes 50% less energy than a house built to building code standards.
Innovation climat is a technology that has been verified by numerous tests, including the blower door test and the valorization test. These analyses consist of evaluating the house's airtightness as well as the potential energy losses on our model homes.
*This data is taken from EnerGuide's rating scale in gigajoules.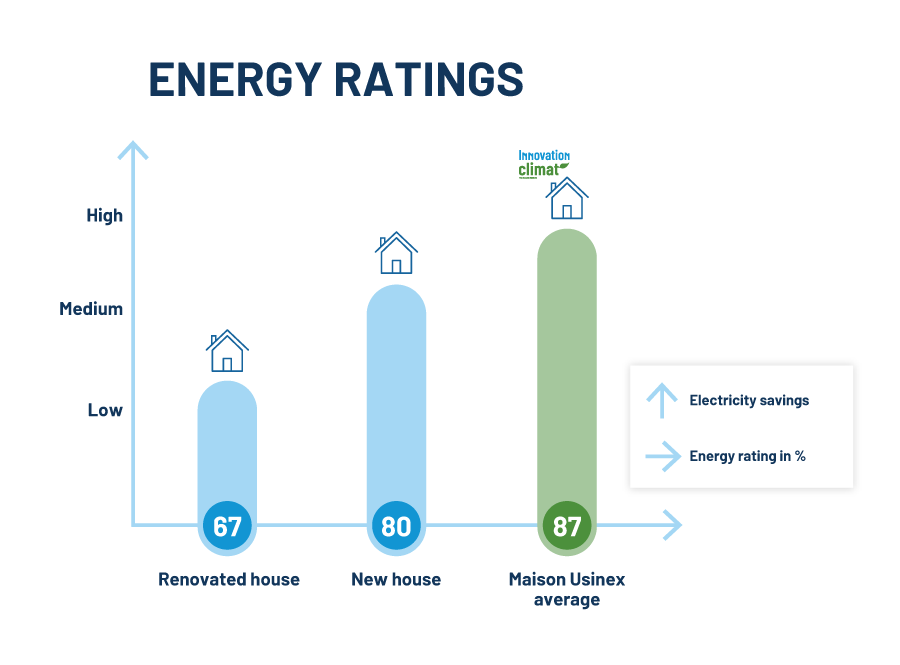 Saving energy and money
Once again, we were able to see that Maison Usinex greatly surpasses the industry standards. Concretely, thanks to Innovation climat, you will not only obtain incomparable energy savings but also exponential money savings.