What are the benefits of Innovation climat?
The process of deciding on a new house can be complex. While the environment is important to you and part of your daily life, not all used homes can meet this need. With unmatched energy efficient attributes, this is where the benefits of Innovation climat come in! This could certainly enlighten you in this big step.
With our Innovation climat factory-built ecological homes, Maison Usinex chooses to improve its future houses to optimize both your daily comfort and your investment.
The benefits of Innovation climat are…
More savings… thanks to a new home!
While an energy efficient home may seem like a significant investment, the difference with buying any other home on the market is minimal! Not to mention that Innovation climat, which represents ecological standards automatically included with the purchase of a Usinex home, brings its own set of unavoidable advantages. After all, a high-end home is defined by high performance!
At Maison Usinex, we want your investment to pay off quickly. This is possible with Innovation climat! No matter which model modèle you choose, your home will be more energy efficient than most other new constructions. In fact, the triple-glass windows included with Innovation Climat ensure better energy efficiency and the lowest possible thermal conductance. On average, you will save about $500 per year! This is possible thanks to the superior insulation and the unparalleled level of airtightness offered by Innovation climat. Industry-recognized tests have been performed on our houses, including a valorization test and a blower door test. test d'infiltrométrie. These tests show results ranging from 20 to 30% more savings compared to other new homes on the market. In addition to superior insulation, you will get the equivalent of a full year of free electricity every 3 to 5 years!
Therefore, the resale value of a new construction is an important, if not decisive, feature. With long-term advantages such as those provided by our Innovation climat standards, the resale value of Maison Usinex houses does not diminish with time. On the contrary: the more the years go by, the more the savings you accumulate!
Moreover, if you add an Energy Star certified heat pump, you can reach savings of up to 40%! Not to mention that with such an appliance, you can benefit from government compensations des compensations gouvernementales to encourage the use of energy-efficient products.
More comfort
In addition to having a customized home, our factory-built homes offer you a comfortable living environment. You'll finally be done with unwanted hot and cold air infiltration! In fact, our energy-efficient houses have triple-glass windows, which ensure better thermal control. In addition, all our Innovation climat homes are equipped with RT-30.7 insulation in the exterior walls, RT-52.4 in the roof and a superior airtightness process. Once again, these ratings exceed industry standards!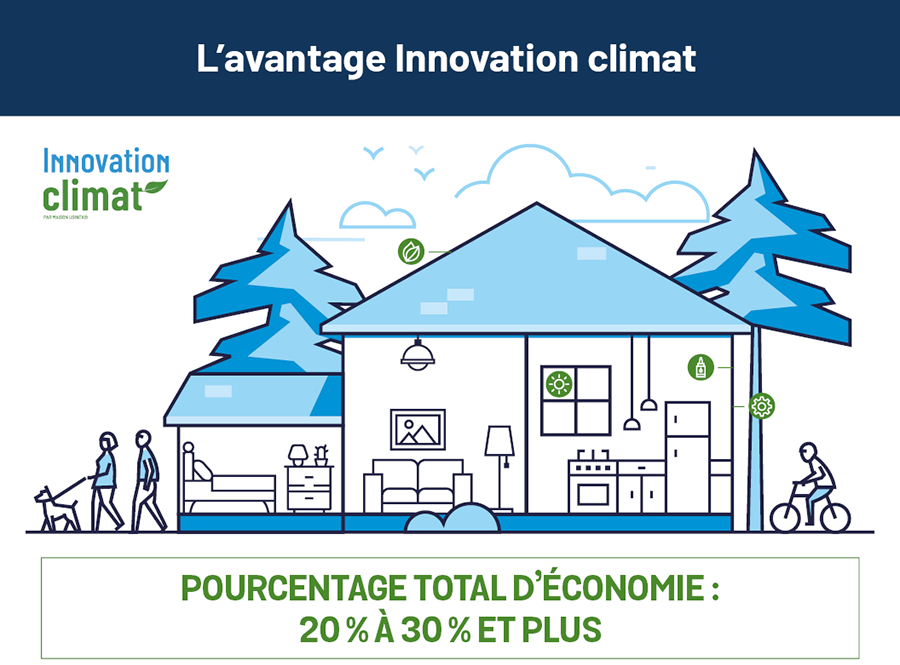 More peace of mind…and sound!
Peace of mind is priceless! Since most of our construction is done in a factory, the materials used are protected from the bad weather. This means less risk of mold. This advantage, which is unique to the world of prefabricated houses, puts us well ahead of other new homes in terms of solidity and quality of materials over the long term. Indeed, many recent constructions are unable to guarantee such a good preservation of materials.
And what about the beauty of having peace and… quiet! The triple glass windows included in our Innovation climat constructions not only provide thermal comfort, but also increased soundproofing. While single-glazed windows are often seen on older homes, this type of windows no longer meets the energy efficiency standards of many regions of Québec. Innovation climat is just the opposite! Once again, this specificity allows us to surpass established standards.
More ecoresponsibility
After all, choosing Maison Usinex, choisir Maison Usinex, is also choosing an eco-responsible lifestyle by Innovation climat. In fact, many of our homes far exceed the energy performance standards set by Novoclimat. We are proud to say that our houses are more eco-friendly than ever!
Did you know that the majority of unused materials from the factory constructions are recycled? Maison Usinex has obtained an accreditation certificate from ADDERE service-conseil, a collective enterprise that encourages and recognizes the eco-responsibility of businesses. What could be better than doing your part for the environment, while having peace of mind in a house that looks like you!
Innovation climat means ecological, economic and comfortable factory-built houses. With Maison Usinex, you will see your daily life optimized in all the aspects that are important to you! In addition to having a fully customized home, you will have the chance to honor your most important values.
For more information, ask one of our consultants!