5 tips for buying a factory-built house
Buying a home can become a complex process if it is not well planned. Planning plays an important role in order to orchestrate all the steps necessary to the realization of your housing project. Here are 5 tips to help you buy your factory-built home.
1. Determine the budget
First, it is important to schedule a meeting with a financial advisor at a financial institution of your choice. During this meeting, ask for an official pre-approval of credit, which certifies your eligibility for a mortgage loan. Following the analysis of your financial statement with your advisor, you will obtain an estimate of the maximum loan amount that will be granted to you to purchase a property and lot. It is recommended to evaluate your financial capacity with three or more financial institutions in order to obtain the best possible loan considering your situation.
Anticipate additional costs
A home project is not just a matter of buying a house and a lot. It is necessary to keep in mind all the additional costs that may be added to your project. For example, you have to keep in mind the budget for the foundations, prévoyez un budget pour les fondations for soil testing, for utility connections, for landscaping, for interior finishing of the home, etc. These costs must be taken into consideration when you look at your budget. To get a better idea of the costs involved, download our guide on the subject.  téléchargez notre guide sur le sujet.
2. Understand the process of building a manufactured home
There are several steps to take before purchasing a factory-built house. plusieurs étapes à franchir avant l'achat d'une maison usinée. It is important to understand the process so that you do not have unrealistic expectations of the project and the necessary involvement of the client. The purchase of a manufactured home goes through 4 main stages. The preliminary phase, the elaboration of the house, the construction and the delivery. The process is illustrated in the following visual and allows you to understand all that must be accomplished to obtain one of our magnificent factory-built homes.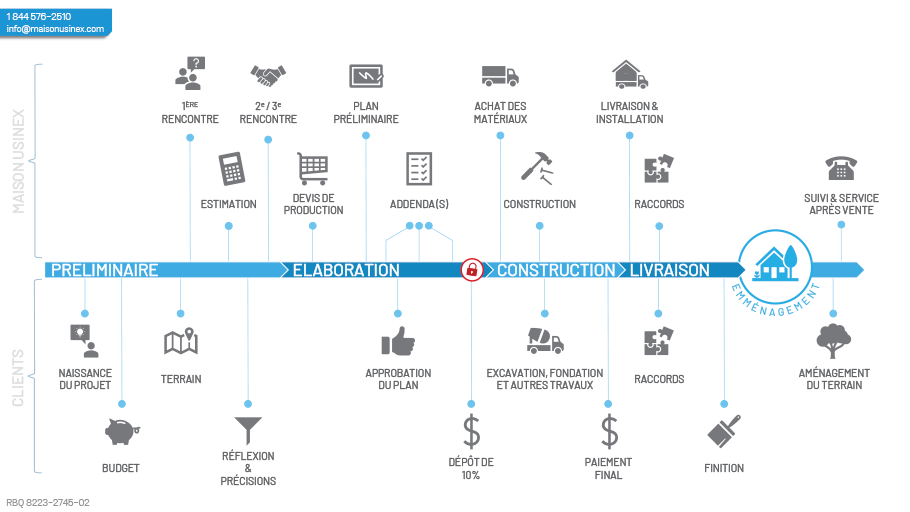 3. Choose a lot carefully
It goes without saying that your home will need a lot to be installed! To choose a site that corresponds to your needs, it is advisable to take your time. Keep in mind that your lot will have an impact when you resell your home. Going back to see the land several times is an excellent way to make the right choice before taking action. Don't hesitate to go and see it at different times in the day. This will allow you to better understand if the lot and external factors (neighbourhood, traffic, noise, nearby amenities, distance from your workplace, sunshine period, etc.) are also suitable for you.
It is equally important to take into consideration the more technical aspects of the lot and to be well informed about them. You should pay particular attention to the following points:
Wetland,
Slope (possibility of  a garden level),
Sanitary services,
Percolation test and survey,
Welcome tax,
Zoning and building regulations by the municipality.
Si vous souhaitez avoir plus de renseignements concernant le choix d'un terrain idéal pour une maison usinée, n'hésitez pas à contacter notre équipe.
4. Customize the space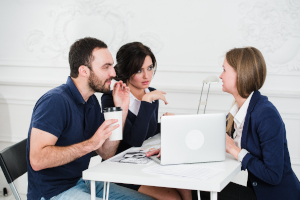 A home that reflects your image and is designed to meet your own needs is fundamental. Take advantage of the multiple customizations available with manufactured homes to achieve a result that fits your lifestyle.
A larger living room, a high-end bathroom or an open concept kitchen? une cuisine à aire ouverte?
Now is the time to find out what you can change and let your desires speak for themselves! Don't hesitate to bring inspirational pictures that illustrate the styles you prefer when creating your home plans. We encourage you to create a moodboard to illustrate your tastes and preferences. You can start by visiting our Pinterest profile visiter notre profil Pinterest to get some ideas.
5. Optimize energy efficiency to save more money
In the last years, the energy efficiency trend has led to the creation of many more energy efficient options to supply homes with power. Energy efficiency not only makes for a more environmentally responsible construction construction plus écoresponsable, but also lowers your electricity bills! You will save on your heating, cooling and ventilation costs.
Make sure your construction meets or exceeds market energy standards. Factory-built houses have an excellent reputation because their envelope (roof, floor, walls, windows and doors) is more airtight than a traditional home.
If you want to further optimize your energy management, you can opt, for example, for triple glass Energy Star windows, an air exchanger or a low-emission heat recovery unit.
The planning…
The most important step in your manufactured home project is definitely planning. It is important to do your research and analyze your options. Don't try to move too fast, talk to everyone involved in your project. If you have any questions, our advisors will make it their duty to inform you about the entire process of building your home and accompany you every step of the way. At any time, you can count on them!